The Battle of Visby was fought in 1361 near the town of Visby on the island of Gotland, between the forces of the Danish king and the Gutnish country yeomen. The Danish force was victorious.
Every three years, the life and battles against Valdemar Atterdag in 1361 are recreated. Experience the field camp at Visby ring wall during the entire Medieval Week. And witness the battles, in Mästerby.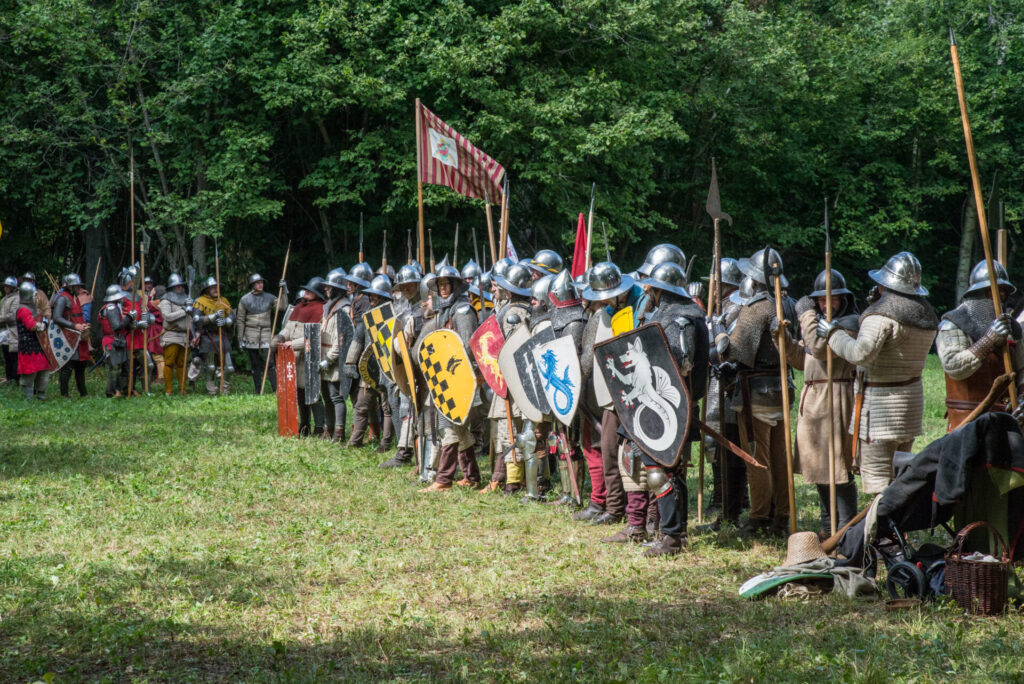 Several hundred participants from almost 20 countries are once again recreating one of the most famous and fabled battles in Sweden's history. During the afternoon, you have the opportunity to be part of something unique. Hear the clatter of hooves, the clang of steel and the whine of arrows. The battle is commented on by a knowledgeable cicerone in a loudspeaker system. Bring something to sit on, the audience sits on the grassy slope at a safe distance but still so close that the clatter of weapons, commands and shouts can be heard.
Experience as historically accurate a recreation as modern historical research can give us!
The Battle of Mästerby
Mästerby meadow. On his march towards Visby, Valdemar Atterdag meets a tougher resistance than he might have expected. The Gotlandic people answer the attack with with steel weapons, rain of arrows, and incredible courage! The battle in Mästerby is recreated with hundreds of participants on foot and on horseback. You are warmly welcome to take part in a fierce battle in the immediate vicinity of the site of the battle of 1361, with Cicero guiding you through the most important historical parts of the battle.
Battle of Visby ring wall
Also known as the Battle of "Korsbetningen", was a crucial battle during Valdemar Atterdag's invasion of Gotland. The battle took place on 27 July 1361 between the Danish army and an almost an equally strong peasant assembly, at Visby Ringmur, the ring wall surrounding the city.